Everything is nice, peaceful, and normal. You may or may not hear something about bad weather predictions. And then in a few days, a rising level of water comes and grasps everything around you beneath the water. This is the short story of causing billions of dollar's damages and losses to homes and businesses. In this article, we will discuss "how floods damage houses and businesses?" and "how to deal with flood damages?" with great details.
Now, are you taking the possible financial effects of flood damage lightly? If yes, then we will explain your misconception in the next paragraph. And if you are serious about dealing with the damages of a flood, then we have the solution for you. So, continue reading the article to the end.
What kind of damage can a flood cause to your home and business?
Flooding is one of the most common natural disasters in the US causing billions of dollar's damages to homes and businesses. There are many reasons that may cause a flood in your area. Natural disasters such as hurricanes, excessive rain, excessive snowmelt, and rising water levels in rivers and lakes, etc. are the main reason behind flooding. The damages will depend on certain things like the level of water, the flow, how many days the flood is sustaining, etc. No matter if you have a business or a home, a flood will cause some common effects to it.
How does flood damage affect your home?
Structural damages such as losing or buckling floor and roof, foundation cracks. It can even flow away from an entire small house with the speedy water flow.
Electrical damages such as broken or frayed electrical wires. It may even interrupt the entire electric function of your house. Damaged wiring may arc or cause power surges which may permanently damage machines plugged into the system. The appliances in your house such as air-condition, refrigerator, heater, and so on can be left useless.
Damage to the septic and well water system may occur. Your septic tank filters can become clogged with dirt. Well-water can be contaminated.
Mold can start growing on any damp surface in just 24 to 48 hours.
To be honest, there is nothing to be specific about when it comes to the matter of possible damages of a flood. If you are living in an area where there is a chance of flooding, then each and everything in your property is at great risk.
How does flood damage affect your business?
Maybe you have a shop, an office, or storage. If your business has a physical appearance, then the damages can be the same as the ordinary houses. Everything inside the infrastructure will face the same conclusion. But for business owners, there are some extended risks. You may have products, materials, or machines that can be damaged and left useless. Besides the property damages, you may also have to face sudden losses, market crashes, and whatnot.
The damages are too many to explain so, let's keep it short. We hope you can already imagine the rest of the effects a flood can cause. But, have you ever thought about how much money it will cost to repair or rebuild everything in your home and business property? Can you afford that much? Is it really logical to avoid the possibility of such damages?
The answer will be a big 'no'. Because no one is ready to bear such big expenses all of a sudden. So, there is no chance to take the financial effects of floods lightly.
Then how do we deal with flood damage?
As an individual, you cannot stop floods from happening. If your home or business is in a flood-risky area, then you have to face it. But face it with smartness. You cannot do anything after a flood comes and takes everything from you. You have to take precautions to face the after-effects of a flood.
The only way to deal with the damages of the flood is "flood insurance". You may have home insurance or general property insurance and feel like you are on the safe side. But we suggest you read the policy (agreement) again including the terms and conditions. Because flood damage is not covered by standard insurance policies.  Only flood insurance can save you from the financial damages you may get from a flood. Now we will focus on what is flood insurance, how it works? Why and who should have flood insurance, and so on.
What is Flood Insurance?
Flood insurance is a kind of property insurance. An insurance policy that covers losses due to water damages specifically for flooding caused by rain, melting snow, coastal storm surges, blocked storm drainage systems, or levee dam failure is called flood insurance. This insurance policy is available for all residential and commercial properties.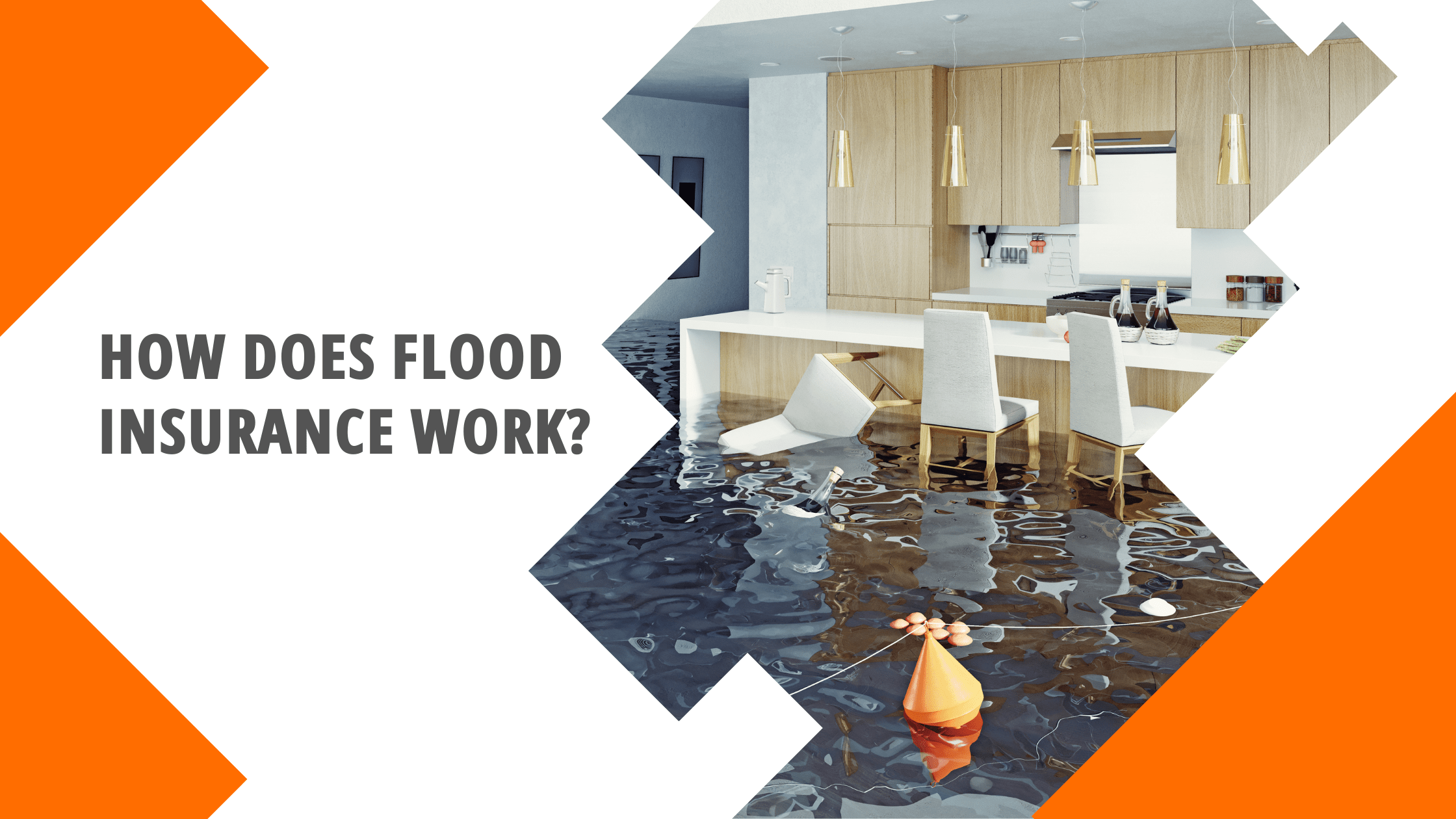 How does flood insurance work?
As we already said, flood insurance is a type of property insurance. And it also works like typical property insurance. However, flood insurance is usually offered by the federal National Flood Insurance Program (NFIP). You can also buy it from private insurers. If you get flood insurance on your property, you have to pay a certain amount of premium (usually annually) to the insurance company.
The annual premium will be based on the property, flood risk, and the deductibles you choose. If flooding damages or destroys the property or its contents as a result of an external incident (rain, snow, floods, collapsed or failed infrastructure), the property owner collects cash for the cost of repairing the damage and/or rebuilding the house, up to the policy cap.
The NFPI lets you have flood insurance on your house for up to $250,000 and personal properties up to $500,000 of coverage for the building and contents. The flood insurance comes with deductibles for your properties and contents, where you can choose the deductible amount. The more deductibles you choose the lower premium you pay. The average cost of flood insurance is about $700 per annum.
There is a 30-day waiting period for the activation of the flood insurance. So, always try to have the policy at least before one month of the possible flooding season. If the incidence occurs after the 30 days waiting period, you will be able to claim the costs of damages caused by the flood.
There may be some other conditions for exceptional cases. Remember, once you have signed the agreement of flood insurance with the insurance company, you are most likely to not be able to make any more changes to it. So, read the flood insurance policy and the terms & conditions very carefully and make sure you have understood everything. Don't hesitate to ask any queries from your insurance company.
What kind of damages does Flood Insurance cover?
In simple words, flood insurance will cover all the commercial or non-commercial property and content damages (mentioned in the agreement) caused by flooding. To be more specific, a flood insurance policy typically covers – The insured building and its foundation; electrical and plumbing systems, central air-conditioning systems, furnaces, and water heaters; refrigerators, cooking stoves, and built-in appliances like dishwashers and trash compactors; permanently installed carpeting and flooring; permanently- installed paneling, wallboard, and built-in bookcases and cabinets; window blinds and shutters; detached garages for up to 10% of structural coverage (other outbuildings require separate
policies); debris removal.
It also typically covers personal properties such as clothing, furniture, and electronics, Curtains and window treatments, air conditions; home appliances such as ovens and dishwashers; valuable artwork, jewelry, etc. The coverage is often extendable. Simply discuss with your insurance company about what other things you want to take under the umbrella of flood insurance. But it may cost extra.
What flood insurance does not cover?
Your flood insurance will not cover damages exceeding the policy limits. Of course, there are things such as your landscaping and exterior features, vehicles, things you collected in your basement area, etc. that are not covered by your flood insurance. So, you must ask your flood insurance company about what the flood insurance policy covers and what it does not.
Who needs flood insurance and why?
Your flood insurance will work as a backup for you in days of disasters. You can be financially on the safe side when everything around you is flooding. A flood insurance policy is most important if your home or your business (commercial property) is in a high-risk flood zone. But 20% of flood insurance claims come from low-risk areas. Also, you will get flood insurance with easier conditions if your property is located in a low-risk area. Again, your typical home or property insurance is not going to pay for your flood-caused damages.
So, no matter if you already have property insurance or not, if your area has a minimum risk of flood then purchasing flood insurance is worth it. After all, it can save you from the loss of hundreds and thousands of dollars of flood damages. But if there is no risk of flood in your area, then it will be a wise decision to avoid it.
Conclusion
Flooding is the most common and the most expensive disaster in the United States costing billions to the homeowners, insurers, and government. A single flood can float away all your dreams. Are you prepared for a flood and the probable damages caused by it? Just an inch of water can cause $25,000 in damages to your home and business. Can you bear such losses? If not, then flood insurance is the one and the only solution for you to set a backup for the possible damages to your home or business. Deal smartly with disasters. Contact the best flood insurance provider in your area and request for a quote. Dig deep into the details and get your flood insurance policy.