Congrats, Rylie and Jack!
We are pleased to announce this year's winner of the G&G Foundation Scholarship is Rylie Gebhart and Jack Williams. Rylie and Jack's accomplishments during high school, their community service, vision for the future, and belief in the value of teamwork and adaptability were all aspects that make them deserving of the G&G Foundation Scholarship.
The Foundation focuses on the community through striving to achieve our core values of inspiring change, community enrichment, and empowering people. Through these efforts, the Foundation launched the scholarship program to award scholarships to individuals in the communities we work with that are continuing their education.
Please check out Rylie's and Jack's essays below to learn more about these wonderful students!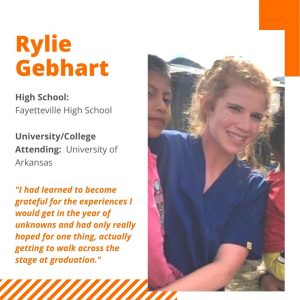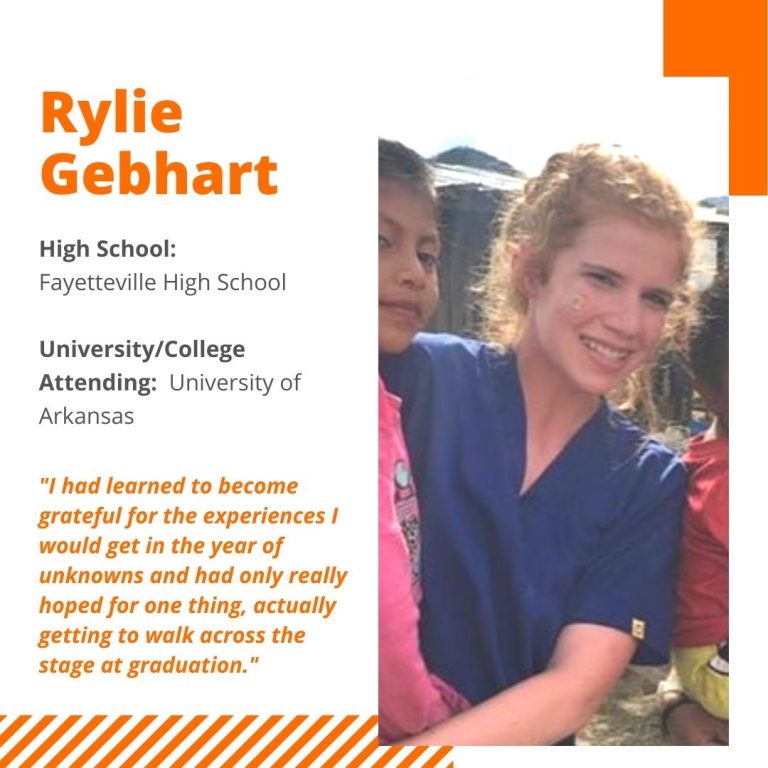 Rylie's Essay
Throughout the COVID-19 pandemic, I've had to become adaptable to a lot of different things. My whole world shifted. In the blink of an eye, I went from learning in a classroom on a random Friday in March to learning at home on a Zoom call the following Monday. There was no way around it. So, I pushed through a few weeks of AMI work with hopes that we might get to go back in person for the last month of school. At the beginning of April, those hopes were crushed by an announcement from the Governor saying that all Arkansas schools would finish out the school year virtually. I was sad for a while because that announcement also brought the uncertainty of whether or not we'd even get to go back to school in the fall, but I couldn't sit around and sulk for the next month and quit doing my schoolwork. So what did I do? I put my best effort into the fully online learning experience so I could finish my junior year strong with all A's and B's and then start hoping that my senior year would at least end up being somewhat normal.
During this time I also had to adapt to my transition from working 2 weekends a month to working 5 days a week due to COVID related staffing issues at my job. I very quickly had to learn more about the various products we carried and how to be the most efficient at the cash register I could be. All while finishing what's commonly named the hardest year of high school through my computer screen. This forced me to acquire some time management skills so I could do well at both school and work. Some days I would have to take my laptop with me to work so
whenever business was slow I could use my time wisely and get caught back up on schoolwork, which worked out pretty well. Other days I'd just walk around the store reading labels on different products just trying to figure out what they even do and how they worked so I'd be as much of a help to customers as they needed me to be. I continued doing this throughout the end of the school year and the whole summer, still hoping for a somewhat normal senior year.
Many different announcements had been made about how schools would look in the fall. Plans of either going to school in person 4 days a week or 2 days a week or doing it completely virtual again were given to us. I personally chose to go in person 4 days a week so I could get the social aspects I had been lacking for the last couple of months and have my peers face-to-face when I needed help and not computer-to-computer. Through being six feet apart, wearing masks, constant cleaning of classrooms, no homecoming or colors day dance, only having about half of my class at school, and plenty of other things, I adapted my view of what my senior year would actually be like. I had learned to become grateful for the experiences I would get in the year of unknowns and had only really hoped, for one thing, actually getting to walk across the stage at graduation. Luckily, that was one of the few 'normal' things that came out of this school year. Due to COVID restrictions, our ceremony had to be split into three, and as soon as we got our diploma we had to exit the arena. But I accepted it and adapted to it, knowing I wouldn't get to experience it with my whole class and not being able to throw my cap like they had in years past. In the long run, this will just be a tiny bump in the road, but I'll remember how I adapted to these hardships and know that I can adapt to whatever life throws at me.

Jack's Essay
Of the core values listed, I believe that I exemplify adaptability. I have demonstrated this throughout my high school career, but especially during the Pandemic. During this time, I stayed focused on creating better habits and maintaining a productive lifestyle with academics and athletics. First, I focused on my education. I made it a priority to join every Zoom my teachers scheduled. The Zoom classes were not all mandatory, but I felt it was important for me to be present and make an effort since the teachers were learning to change their teaching methods. I quickly learned that this was the "new normal," and I made an effort to hold myself accountable out of respect and to stay on top of my studies. This was not easy. Classes were harder without face-to-face interaction and no set schedule, but I worked through it, and my grades improved. At the beginning of the semester, I set a goal to reach a 4.0 GPA, and I did. 
Besides going to classes every day, I was used to being involved in a daily team cross-country practice. It was at the same time each day. Because of the lockdown, I was not able to participate in organized team practices or meets. I knew I needed to stay healthy and fit because I knew that my competitors would continue to train. I committed to adopting new habits that would put me closer to reaching my season goals. I researched the habits of successful athletes and learned that I needed to adjust my sleep habits. My new goal was to get 10 hours of sleep every night to stay healthy and maximize recovery. I also decided to raise my weekly mileage and increase my workouts. Since I wasn't participating in track meets or a set practice schedule, I had more time to do this.  Finally, I used this time to start meal prepping. By working with my mother, I started to learn to cook. I enjoyed preparing meals for the week and know that this helps me maintain healthier eating habits that I can continue. 
This experience taught me to take advantage of any situation and treat it as an opportunity to make changes that will benefit me now and later. I plan on using these new skills as I enter the The University of Arkansas. I am lucky enough to be able to walk on the Arkansas Track and Cross
Country team next year. This has been a lifelong dream of mine, and I know that these new habits will help me to better handle the transition from high school to college – athletics and academics. A lot of freedom comes with being a college student and because I embody this core value, I feel that my transition will be smooth and that I will maximize my free time and take advantage of every opportunity that presents itself during my freshman year. Outside of school, I know that these lessons will also benefit me when I move into my career. Being flexible and able to easily adapt to a new way of life after college with a new career will not be easy. If I continue to practice the skills I have learned, I feel the transition will be easier for me as I enter that new phase of my life.