Looking for a Life Insurance?
Life insurance is not only the cornerstone of a solid financial plan, but it's hands down one of the most cost effective ways to protect the people who depend on you financially.
What would happen to your family if you were to die prematurely? Would they be able to maintain their current lifestyle?
Would your kids be able to go to college? Would your spouse be able to shoulder the load with one income?
If you have a child, are married, or you are carrying any kind of debt, purchasing life insurance is a no-brainer.
If all three, well, hopefully you already have life insurance. Here are a few other reasons to have this type of insurance though:
charitable donations
pay federal death and estate taxes
create an inheritance for your heirs
pay final expenses
We Make Buying Life Insurance Easy
At G&G Independent Insurance, we make the process of buying life insurance extremely simple.
We have access to a wide range of insurance companies so we can survey the marketplace and based on your individual rating criteria, find the best possible life insurance policy at the best price.
When purchasing this type of insurance, there are a few things to consider. Do you want Term Life Insurance, or Whole Life?
If you don't understand the difference that's okay. That's what we're here for.
Life insurance is based on two main variables — your age, and your health.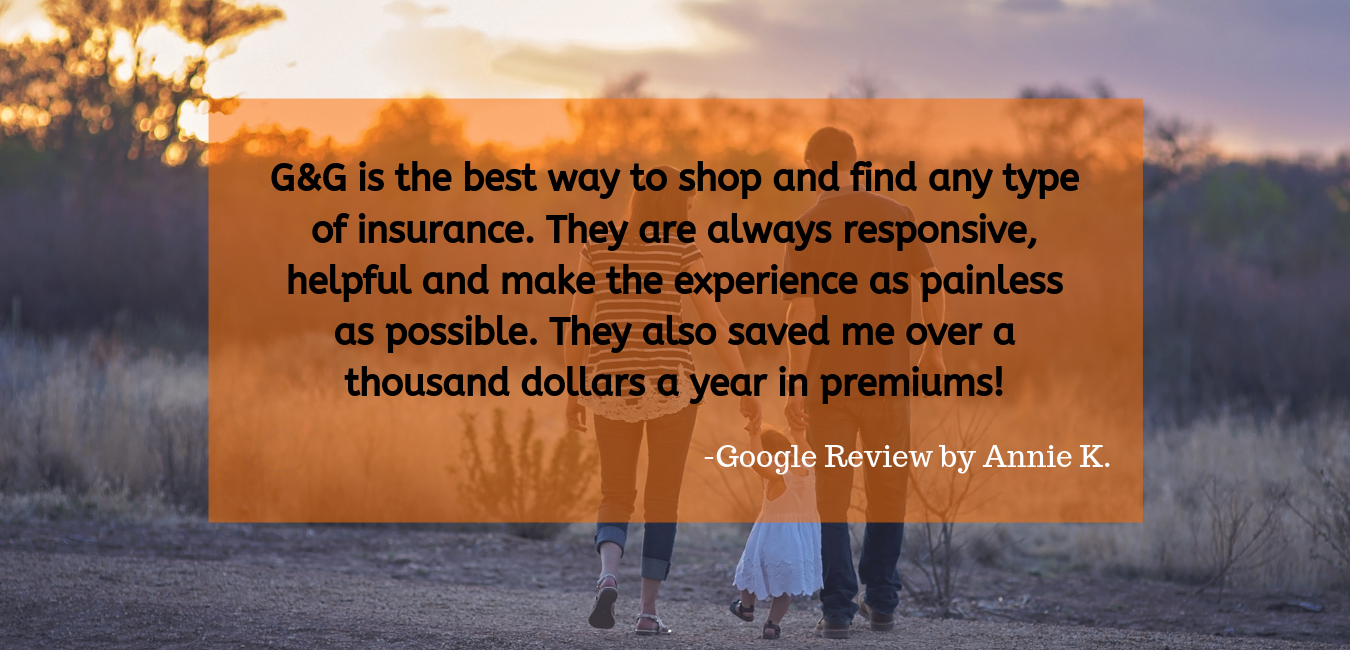 How Much Life Insurance Do I Need?
A mistake that we often see people make is basing their insurance coverage on a guess, or just grabbing a number out of thin air without realizing what the impact of inflation could have on their life insurance proceeds.
One of the benefits of working with an independent agent like us is that we can sit down, and through a comprehensive needs analysis, determine the exact amount of coverage you will need to protect the people who depend on you.
The amount of coverage you need depends on a number of different variables. Here are a few examples:
how many children you have
your future earnings potential
whether or not you're married
spouses future earnings potential
you and your spouses age
amount of debt you have
My husband always handled the insurance and other things for our home and cars. He passed away, and I have had to learn a...
I learned about G&G through my job when I was working to find reliable agents and get quotes for clients. They've always been so...
Alicia Hodge
2 months ago
Beyond happy with their wonderful assistance through the process of switching our company's insurance. Our agent Micah was very attentive and prompt. He made a...
To get started on your quote, call our office or click over to our quotes page.
Either way, we'll make the process simple!