Whether your partner got down on one knee or proposed at the Bentonville Square, on a mountaintop, in front of the Eiffel Tower, or anywhere in-between, congratulations!  As you enjoy and dazzle at the ring on your left hand, you may be worried about keeping it safe and protected.  If you were proposed to in Bentonville, Arkansas, what if it is lost down a storm drain, or if you are on a mountain, what if it falls off, or if you are at the Eiffel Tower, what if it is stolen on your way to your hotel?  Crazier things have happened, which is why many couples choose jewelry insurance to protect themselves from outrageous situations like these.  If you are newly engaged, here are some common questions G&G Independent Insurance gets about the best jewelry insurance for engagement rings! 
Is My Engagement Ring Already Covered?
Some homeowner's and renter's insurance policies cover up to a certain limit for jewelry. If the limits are too low to completely cover your ring, you can buy a special personal property "endorsement" or "floater".  This type of jewelry insurance policy allows you to insure particular items separately from your general personal property coverage.  If you want more info on coverages and jewelry insurance, check here.
Who Should Insure An Engagement Ring?
You may be wondering, "Should I buy jewelry insurance since I bought the ring or should my fiancé?".  It all depends on who currently has possession of the ring.  If you and your fiancé aren't living together, then the person with current ownership of the ring should insure it.
For example, let's say Jim bought has purchased the engagement ring, but hasn't proposed to Sally yet.  Currently, the ring is still owned by Jim.  In this case, Jim needs to check to see if his homeowner's or renter's policy covers it or if he needs to purchase jewelry insurance.  Once Sally is presented the ring and has it in her possession, Sally is now the owner of the engagement ring.  Thus, Sallie needs to purchase coverage for her ring.
When deciding on who is in charge of insuring an engagement ring, just recognize who currently possesses it.
What Jewelry Insurance Questions Should I Ask?
Confirm Different Quotes
If there is a claim on your engagement or wedding ring, you'll want to know you're covered.  Confirm the deductibles on each quote and ask about how claims are handled.
Discuss Your Housing Situation
Know what you must take care of if you plan on moving elsewhere or moving in with your fiancé or spouse.  Where you live impacts your coverage, so discuss these changes with your Insurance Advisor.
Know Your Repair/Replacement Options
Where can you have your ring repaired or replaced?  Your jewelry insurance policy may have limits on where your claim can be serviced, so check to make sure you have access to suitable replacements.
Ask About What is Not Covered
What if the gemstone is damaged?  What if I lose the ring or it's stolen?  Many jewelry insurance policies will cover loss, theft, and disappearance, but you'll want to confirm the coverage details with the insurance company.
Be Clear On The Process
Insurance can be a bit daunting, so feel free to consult your Insurance Advisor on how to get and maintain jewelry insurance.  It's better to be safe than sorry!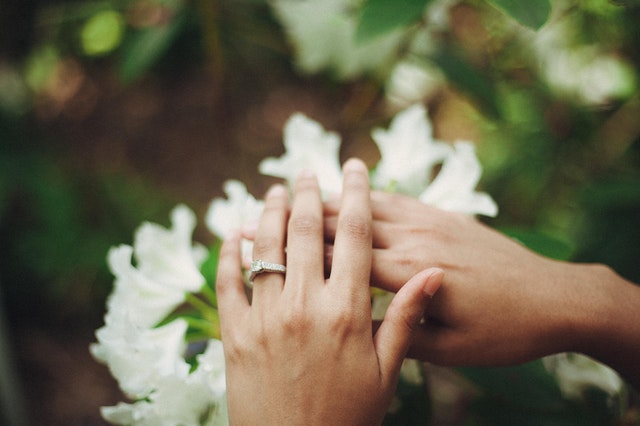 How Can I Get the Most Out of Jewelry Insurance for My Engagement Ring?
Everyone wants a great value on their jewelry, so here are some tips to make sure your engagement ring is fully protected with the best jewelry insurance.
Keep the Receipt
And no, this isn't just in case your partner says no!  Keeping receipts secure gives you a record of the original source and the price you paid for the engagement or wedding ring.
Have An Appraisal Done
Your ring's value will fluctuate over time, so keep a current appraisal on your engagement or wedding ring.  Not only will you be prepared to get the full value out of your jewelry in the event of a claim, but you will also be able to get the most out of your investment.
Make Sure the Diamond Is Graded
Most quality assessments and grading reports look at the 4 C's:  cut, color, clarity, and carat weight.  If you have a diamond in your engagement ring, get the certification and grading report from your jeweler.
Do Not Compromise
If you truly want the most out of your jewelry insurance policy, make sure you ask questions and keep up with the jewelry insurance process.
Should I Insure My Other Jewelry?
Your engagement ring tends to be a prized possession, because of its value to you and what it symbolizes.  If you're debating on jewelry insurance, ask yourself, "How would I feel if I lost this jewelry?".  If it matters to you, it is important to give it the protection it deserves.
Whether you are in Bentonville, Arkansas or the surrounding area, give G&G Independent Insurance a call at 479-802-0086 for your jewelry insurance questions and to get a quote today!